I was thinking about
Rum Raisin (
Malaga
) Gelato
and I decided it may well translate into a nice cheesecake.


So here's the test on my theory: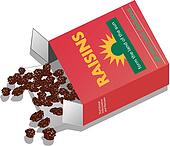 The most important step in this recipe is to soak your RAISINS.
I soaked mine for 3 days. They were plump and delicious.
Stir together & bring to a boil:
1 c. water
1/2 c. sugar
Remove from heat. pour into a heat proof container with:
1 1/2 cup dark raisins
1/4 c. rum
Let cool, and then, refrigerate for 2 or 3 days. Remember, good things come to those who wait! :)
1 3/4 c. graham crumbs
1/4 c. brown sugar
4 oz (1/2 c.) melted butter
Whisk together cookie crumbs and sugar. Then add melted butter. Press into 10" springform pan and bake 8-10 min. at 350 degrees F.
40 oz (5 x 8oz. packages) cream cheese
1/4 c. flour
1 c. sugar
1 c. brown sugar
The zest and juice of one medium orange
6 eggs
1/2 c. sour cream
3 Tbsp. Rum
1 tbsp. vanilla extract
Cream together cream cheese, flour, and sugars until smooth. Add eggs one at a time. Beat in sour cream, rum, vanilla, and orange juice. Finally, drain raisins, but reserve the liquid. Fold the raisins and orange zest into the batter. Pour into crust and bake at 350 degrees until set (about 1 hr.). Cool slightly and add topping.
Fold in the Raisins and Zest
Out of the Oven. Topping added. Cool completely in pan.
Reserved juice from raisins
1 tbsp. corn starch
3 tbsp mixed raisins.
Bring to a boil. Cook until slightly thickened (about 1 min). Pour onto cheesecake. Chill completely before cutting.
I suppose I could have saved some of the raisins I soaked, but this topping was an after thought. I mean, it looked naked when it came out of the oven... I needed to dress it up a bit!
I always wait until the next day to cut mine.
Cool completely before slicing!
Beautiful cross section
You may make this cheesecake ahead of time. It freezes beautifully.
I hope you enjoy it!